arts

"Young artists of color…need to see themselves represented to know their stories are valid," says Cagen Luse, co-founder of Comics in Color.
Boston cartoonist Cagen Luse certainly wasted no time languishing during the coronavirus pandemic.
He drew a lot, of course — his LunchTime comix strip in Dig Boston, retitled 'The New Normal' during COVID-19, was one of the best local shots of life during the pandemic. But he also managed to co-host the first Comics in Color Fest in Roxbury with fellow artist Barrington Edwards, marking the debut of Boston's only comic book event focused on stories by and about people of color.
This year, the event, scheduled for April 23 at the Reggie Lewis Center, will take a leap forward from last year's hybrid event by being entirely in-person. As a guest on this month's Strip Search comics podcast, Luse spoke about planning the festival as well as his own new work. These include "Welcome to Pawston," a comic panel that explores hot topics in a fictional Boston populated by anthropomorphic animals.
Listen below (or here) and see highlights in the Q&A.
Boston.com: Can you tell us a bit about Comics in Color and what last year's event was like? Because it wasn't 100% personal as I recall.
Cagen Luse: Our first festival should take place in 2020; Of course, this festival never took place, but we were able to organize it last year. We ended up doing a hybrid festival where we did two days of online panels, which was really awesome, and then we have an outdoor artist avenue – we called it a marketplace but it was an artist avenue – at the Roxbury Community College in the parking lot, and a lot of fun. We were lucky with an incredibly beautiful day in April and it was a bit windy but we had probably 300 or 400 people that got out.
Why do you think it is important to host an event specifically focused on cartoonists of color and their stories?
I think artists of color are underrepresented in the community. I was at a con recently and it was wonderful out in Boxborough… and it was great and they were very welcoming. But as I walked around, it cemented to me the reason why we need an event like this. There weren't very many representatives of people of color out there and it's not their fault, it's just the way it is, but I think we need a space where we can come and share our stories and be appreciated. And that's what we're trying to build up and also to develop more young colorists to go into the field. They need to feel represented, know that their stories are valid and worth telling.
Meet comics of color in person at Boston Comics in Color

It sounds like a great opportunity for young people to be able to talk to people who are doing this and feel, hey, maybe I could do this.
At last year's festival it was so much easier to put panels together if you ask someone to turn on their computer for an hour and have a chat while you get people to actually come and be in person and be a part of the festival panel requires much more coordination. [But] I felt like this year was important… The experience of going to a con is being in the room with these people. Being able to have these face-to-face interactions and meet people and see their physical work is invaluable as a comic artist and as a comic enthusiast, I think.
What about your own work? Are you still doing anything with Dig Boston?
They don't publish me as often anymore just because they changed the format of the newspaper, so my comic didn't fit as well anymore. But they sponsored the festival this year, I still do some illustrations for them, and I've started doing political comics here and there to try and fit into the space there. Besides my Lunchtime Comix series, I also have another comic series that I've been working on called The Market.
What is it about?
The main character is a young millennial guy who can't find a job and is therefore kind of in the market looking for work – [he's a] a very cynical young man for whom life kind of sucks, so that's the plot behind it. It's a lot easier, black and white line art – I wanted to do something that was kind of a complete departure from the LunchTime Comix style, just to expand my repertoire. So I had fun with that – you know, when you're making comics based on your own life, you don't want to do anything that's too far-fetched, because then people start thinking that's you, right? Even though you know it's based on my life, I'm actually not me, I'm not really that person in the comic, but now to make a character that's completely separate from me, I can kind of have more fun with something else have subjects that I wouldn't particularly make fun of when portraying myself.

And unfortunately I think you'll find an audience for this character – it sounds like a situation a lot of people are in right now.
Yeah, I think I'll have some fun with it – it was in the Boston Compass newspaper, which is kind of an art newspaper, and I uploaded it to webtoons for people to look at if they want to there.
As for the political stuff, I don't know if that's going to work out – there's not a lot going on politically in the country at the moment.
So boring! [laughs] Yes, [with] In my political comic, I want to be different from what I've done before, so this one's called "Welcome to Pawston" – "Paws" because they're all anthropomorphic animals that are just a kind of commentary on Boston politics and the politics of the country submit. I did this because of the breakup, right? When a rabbit says things about the mayor or something, but it doesn't come out of my mouth particularly, it gives me a little bit more distance from that… I did some stuff, like the vaccination ordinance, I did some stuff, the election, that Mass and cass situation – I'm trying to hit things that are kind of happening around me.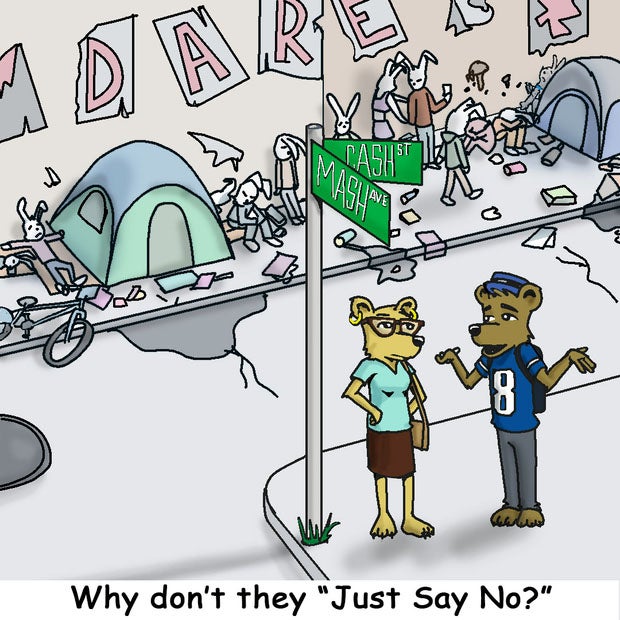 What else do people need to know about Comics in Color?
Some great things are going to happen at the show. We will have live art. My partner Barrington Edwards will be bringing some graffiti artists and comic book artists to work together to create large comic panels so I'm really looking forward to that. you have some [speaker] panels on the radical history of comics, [and] We will host a panel on the intersection of comics, graffiti and hip hop. The Roxbury Film Festival will have some animated films that we will be showing. "Sparrow! The ArtMobile, which is a great thing from MassArt, will be running a whole host of comic-related activities for kids during the day so the whole family can come out and have a great time… Hope everyone comes out April 23rd and has a great time with us.
Visit comicsincolor.org for more information about Comics in Color.
Subscribe to Newsletter
Stay up to date with all the latest news from Boston.com