SAngita Jogi's illustration Women Partying, an upbeat rendition of a girls-only disco nightclub, looks a lot like something you might see in Teen Vogue. In reality it hangs on the wall of the National Gallery of Victoria, as part of a new exhibition highlighting recent acquisitions by contemporary Indian artists in rural, regional and indigenous traditions, some of which have been passed down for centuries. What is unique about 19-year-old Sangita is that she works in a style only practiced in her family: Jogi art, a vigorous drawing style in black ink on white paper, featuring detailed patterns and large, complex compositions. It's been practiced by the Jogi family for three generations – which means it's amazingly modern.
"What sets this family apart from others is that they didn't inherit that style," says Wayne Crothers, Senior Curator of Asian Art at the NGV. "It comes from preserving their storytelling traditions or their singing and performing traditions."
"I was inspired by the idea of ​​women partying," Sangita says of her work. "Women are so burdened, and women who are poor even more so. So I just thought of doing a work about the opposite scenario – about women enjoying themselves."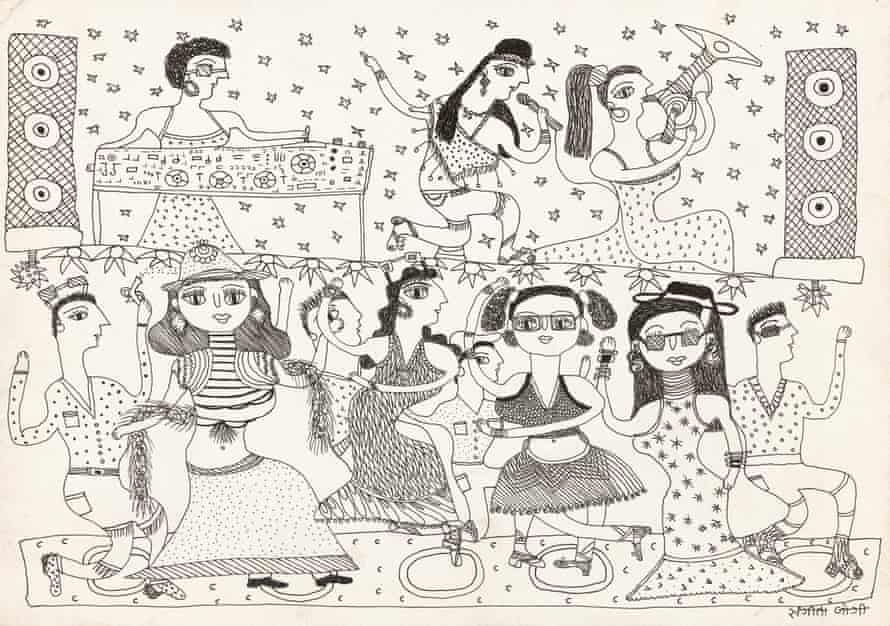 The yogi art form began with Sangita's parents, Ganesh and Teju. Her family name derives from her community, the Jogi, in rural Rajasthan. Untrained in the fine arts, the Jogi were traditionally itinerant musicians, singers of devotional songs and stories. Their music also had a practical function.
"The yogis were the alarm clocks of yesteryear," says Minhazz Majumdar, a New Delhi-based curator who worked with the NGV on the exhibition. "They sang songs at dawn … we always had a barter system going, someone would pay them."
In the 1970s, urbanization made such a livelihood increasingly unsustainable. Then a severe drought struck. Facing crop failures and famine, Teyu and Ganesh were forced to move to the city of Ahmedabad, Gujarat, in search of work—often dangerous, low-paid manual labor.
It was then that Ganesh met anthropologist Haku Shah, who is part of a wave of Indian scholars and curators trying to preserve cultural traditions threatened by the pace of social change. Shah requested Ganesh to record the narrations in Jogi songs to protect them from getting lost in history. Ganesh couldn't write, so Shah suggested drawing the stories.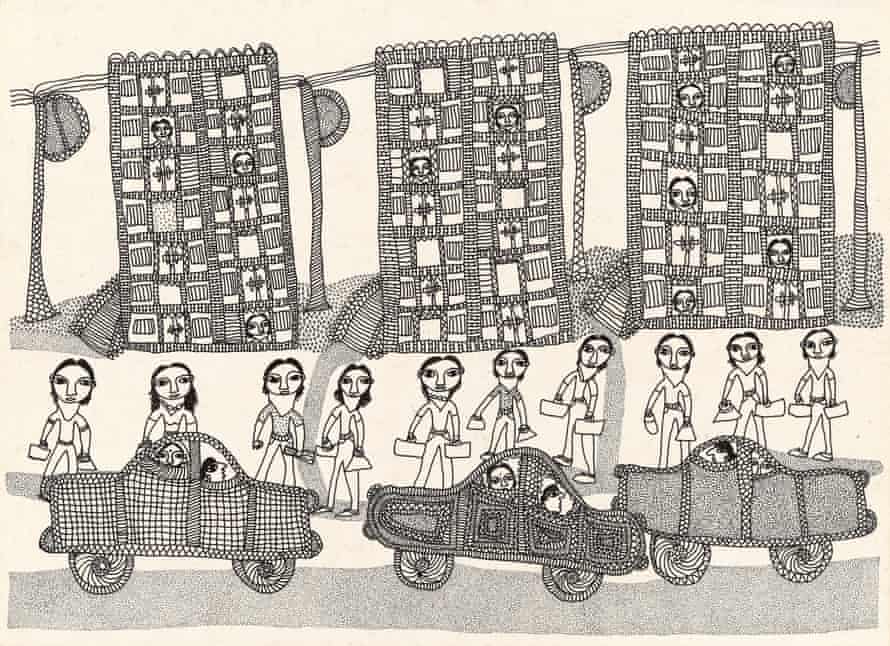 "He was so scared at first that the pen would break," says Majumdar – who has worked with the family for over 20 years – "and now the kids are doing it their own way."
Ganesh and Teju had 10 children, six of whom survived; everyone paints and draws.
"Drawing for me is like a meditation, like a healing space – I get lost in my drawings, creating all the details… they make me forget my struggles," says Prakash, Sangita's older brother.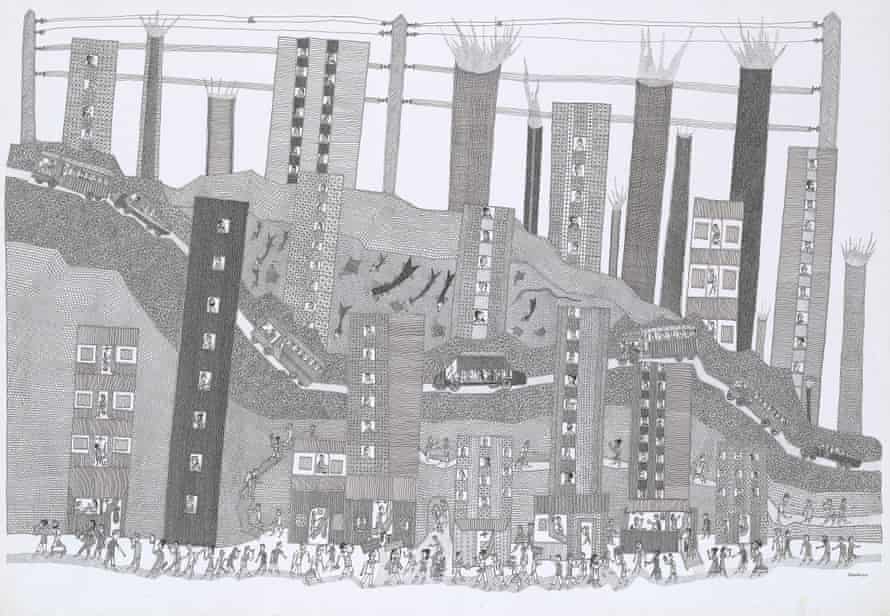 In his intricate work Cityscape (2017), Prakash depicts his home in Ahmedabad as he saw it as a child; tall apartment blocks, smoking towers and masses of tiny human figures scurrying among them, uniformly focused on their business, ignoring fish and turtles in the Sabarmati River that meanders through the city. A closer look reveals that each character is unique – they all have different socks, hair or eyes.
Prakash teaches his teenage son to draw Jogi style; no one in the family sings anymore except Teju and Ganesh. But while the Jogi family's move to an entirely new medium is dramatic, all of the art forms featured in the exhibition are subject to rapid change.
"For many of these families, who have been doing this work for centuries, it was done more in a domestic context," says Sunita Lewis, project manager at the NGV. "But in the last few decades, they've changed the medium or subject matter to commodify it and reach a much broader audience than just their own communities."
Commodity is a word curators often shy away from, but these artists are not hobbyists or members of urban India's middle class. Art is their livelihood: if their traditions are to survive and remain relevant, they need a market. Sujuni, a type of embroidered quilt, has traditionally been a way for women to recycle leftover fabric for practical gifts; Now they are made for sale on the international art market and provide a livelihood for the village women. Contemporary Sujuni The work often depicts motifs of women's independence such as laptops and mopeds. Similarly, Madhubani art emerged with murals painted in homes for significant events such as marriage and childbirth. Now Madhubani artists are working on paper to sell or exhibit their art internationally, tackling issues such as climate change, female fetal murder and Covid-19.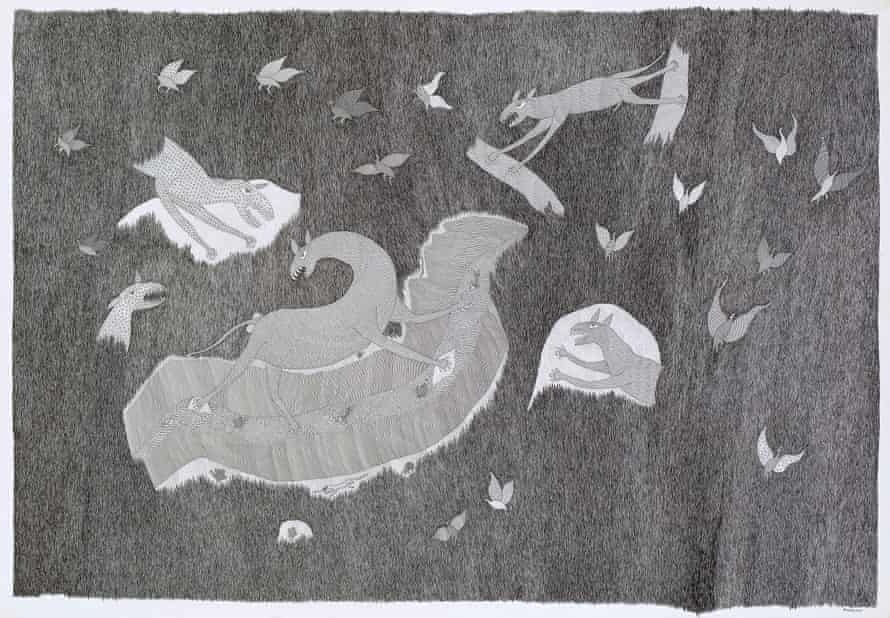 Artists are also increasingly signing their works, something that has not always been practiced or required by collectors in the past. Most of the older works in the NGV exhibition are by unknown or unrecorded artists.
"The fact that the market has woken up now makes it easier to promote these artists as artists rather than nameless, faceless bearers of tradition," says Majumdar.
But, she concedes, increased interest in the art market doesn't always mean a secure future for artists. The Jogi family is mostly still pretty much where it was 20 years ago – with the exception of Sangita who recently moved away from Ahmedabad. She lives with her husband in rural Rajasthan and has just had her first child – a girl.
Sangita has never danced in a nightclub. Women Partying, she says, was based on parties she'd seen in movies and on TV, and her imagination.
"My style is more imaginative compared to my family," says Sangita. "I draw what I want to see – confident women enjoying life."
And, she says, she teaches her daughter to draw.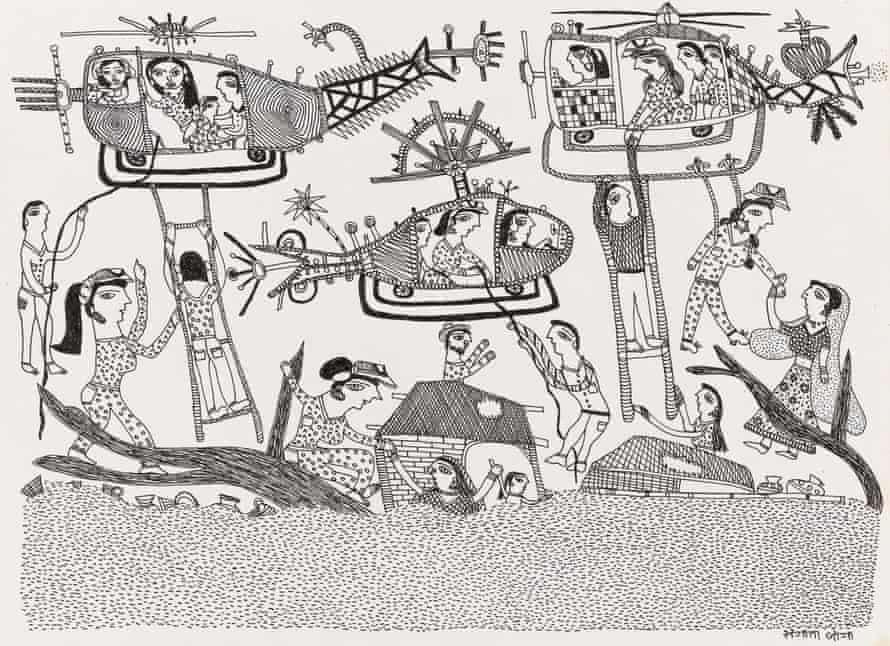 Changing Worlds: Change and Tradition in Contemporary India, at NGV, free admission until August 28.

Minhazz Majumdar provided translation work for this feature.