People tend to take things or people for granted. Only after losing them do they regret their attitude towards them. Artist Samjhana Rajbhandari, however, was able to recover from the regrets of not helping her father display his collection of stamps.
Her woodcut exhibition Prints: A Tribute to the Past, which opened May 8 at the Nepal Art Council in Babermahal, is primarily dedicated to her father, the late Bidyadhis Rajbhandari. But on a larger scale, it is reminiscent of Nepal's entire philatelic history.
Rajbhandari, whose father passed away five years ago, has revisited his stamp collection during the time of the Covid pandemic. "Ever since I was a kid, I've watched my dad collect his stamps. I often wondered why he would indulge in such a tedious hobby that I used to be less interested in. When I was growing up, my father would often ask me to help him display his stamp collection as I am an artist. However, I was not able to fulfill his wish during his lifetime," says the artist.
Stamps and Nepalese art
The late Bidyadhis Rajbhandari was a philatelist and had printed a collection of postage stamps in Nepal since 1886, the sixth year of postage stamp history in Nepal. Pranab Man Singh, a founding member of Quijote's Cove and Satori Center for the Arts, explains: "Jung Bahadur Rana printed them on paper imported from Britain using a printing press from the same country. These stamps were only used in Nepal. It was not until the 1950s, after Nepal joined the world and became a member of the Universal Postal Union, that its stamps were internationally recognized."
The use of postage stamps is gradually declining due to the advent of digital media. Nevertheless, stamp collecting is still a passionate hobby. It is a valuable business and investment strategy in many countries.
In 1967 a stamp enthusiast went to his local post office in the northern English town of Rochdale to buy a pair of British postage stamps. He paid a shilling and nine pence (less than 10 US cents) for a couple celebrating the invention of the television and showing a silhouette of Queen Elizabeth II.
What he later noticed was that one of the stamps was missing the Queen's head. It was a lucky buy. In 2014 he sold the stamp known as SG 755b for £23,600 ($36,260) at auction. Additionally, stamps issued between 1840 and 1875 are among the most valuable in the world today due to their rarity and historical importance.
In addition, stamps are part of the visual culture that captures the valuable knowledge of an issuing country, ultimately leading to an understanding of that country's socio-political, economic and cultural aspects. Samjhana Rajbhandari, realizing the same thing, was inspired to work on this series. Previously, she dealt with the topics of nature and life.
The exhibition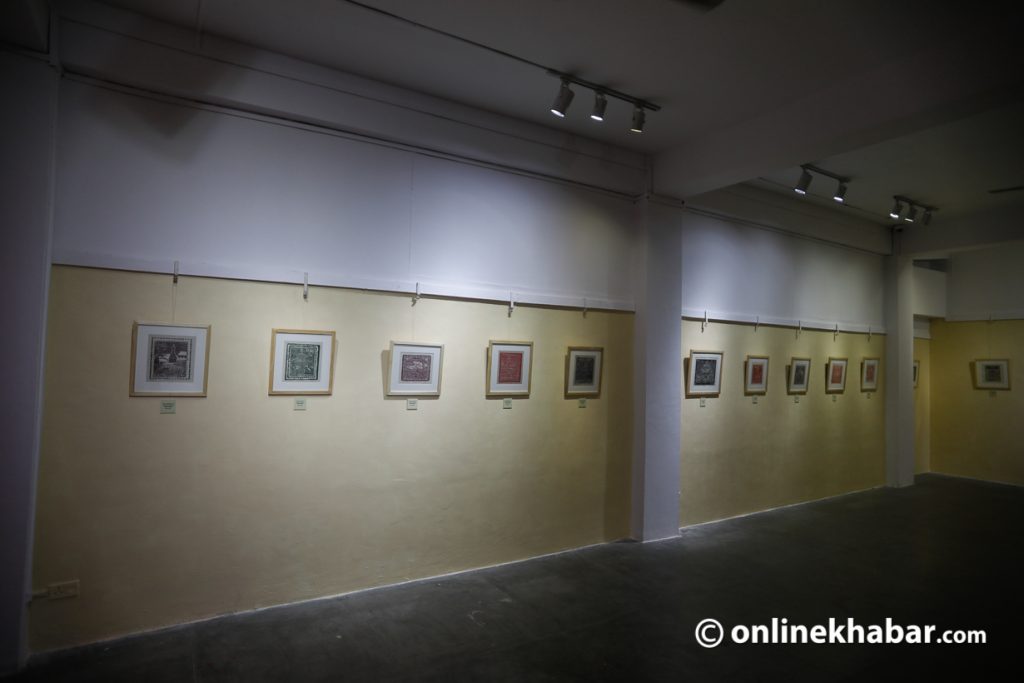 The artist has carefully chosen the title of the exhibition, reviving the past through her artworks using the medium of woodcuts and now presenting them with her creative skills in the form of prints.
She adds: "In the early stages of postage stamp development, the stamp-making process involved printing techniques such as engraving and lithography. The woodcut technique is the oldest form of printmaking. I chose to work in monochrome because stamps were only found in one color in the early days."
She has used colors such as red, brown, yellow, orange, and green in her prints, among others. In the exhibition, the prints that dominate the architectural heritage such as temples, monuments and religious motifs show the country's inclination towards its rich heritage. Prints of commemorative stamps are also on display. Then there are a number of prints which are imaginative postage stamps featuring the motif of Astamangal.
The exhibition shows 33 prints that have an emotional and at the same time historical reference. About this connection, Roshan Mishra, the director/curator of the Taragaon Museum, says in the catalogue: "Samjhana has done several solo exhibitions in her career, but this series of works really stands out as it helps to perpetuate and contextualize the forgotten history would be either been neglected or discarded. Personal stories are largely undocumented in Nepal, (but) such an exhibition will encourage audiences to explore one's collection and family history."
According to artist Rajbhandari, the older technique of stamp making process is similar to printmaking process and being a printmaker herself, she was fascinated to work on her father's stamp collection. Woodcutting uses a relief process that uses tools such as knives to carve the surface of the wood to form a printing block that is used to press onto the paper and print. She chose Nepalese Lokta paper to print her designs and give viewers a taste of how philately works in her collection. Original stamps that she selects from her father's collection are also on display.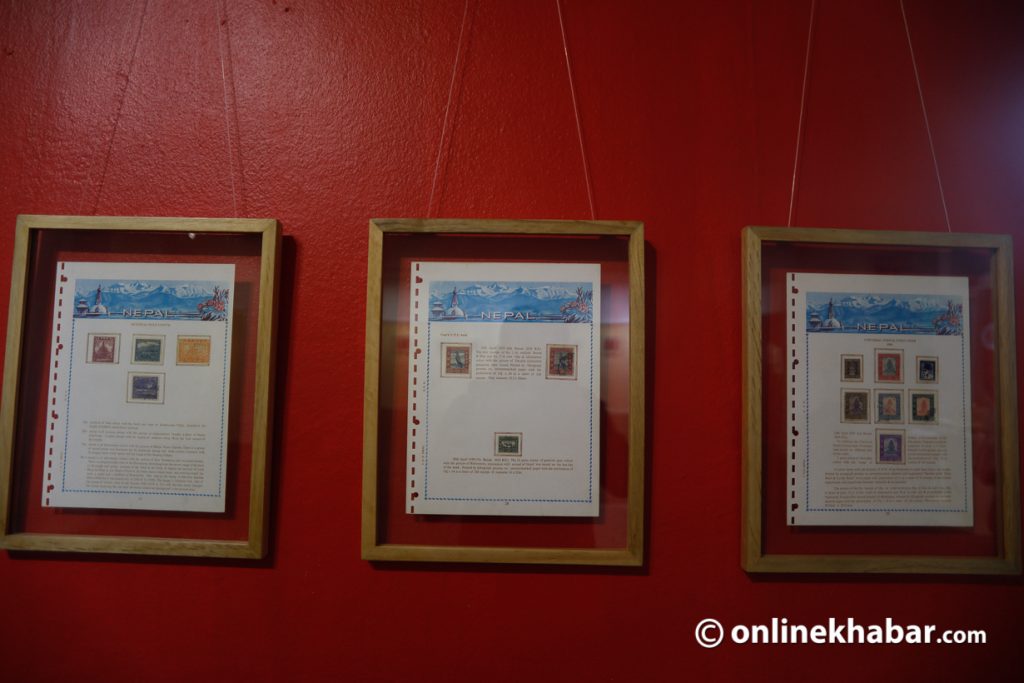 The exhibition, which lasts until May 17, is very interesting where you can see the detailed stamp work on the large format prints, although most stamps are only 0.87*0.98 inches.
"It was tedious work enlarging the stamps and making prints out of them. However, I feel the positive feedback from visitors is a result of my hard work and a tribute to my father. I also worry about how to preserve this knowledge source and what I should do," adds Rajbhandari.